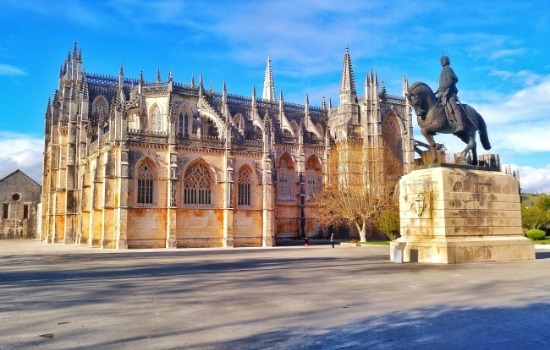 Batalha
In the village of Batalha you will find one of the most beautiful Portuguese monuments - the Monastery of Santa Maria da Vitória.
This Monastery is also popularly known as Monastery of Batalha, alluding to the decisive Battle of Aljubarrota, between the Kingdom of Portugal and Castile - 1385 - from which Portugal emerged victorious and with a consolidated independence from Spain of nowadays.
This magnificent building presents itself as an authentic passport for time travel: from the Middle Ages to the Age of Discoveries. Rest assured that this masterpiece of Gothic and stone lacy, Manueline - rehearsed in this place, for the first time, in Portugal will surprise you, for sure.
Classified by UNESCO as World Heritage in 1983.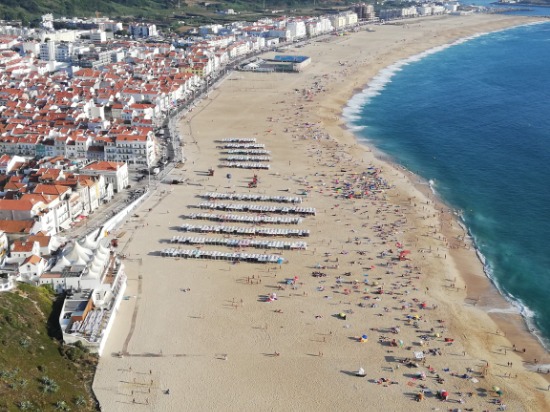 Nazaré
What can we say about this fishermen village?
Nazaré. Legends and pilgrimages since Middle Ages; adventure with big waves and world surf records; a dazzling view over the blue sea
The view from the top of the cliff "Sítio da Nazaré" over the Atlantic Ocean is breathtaking. But it's also in this hilltop that we'll find the Sanctuary of Our Lady of Nazaré - from 17th century - where we have a painted wooden black Virgin statue - and the Ermida da Memória [a Memorial Chapel] built in 14th century where - according to a local legend this statue was found underneath and venerated by pilgrims, since then, through times.
It's it believed that this statue was brought here from Mérida, in Spain, in 8th century.
2 PERSONS - 180€ | 3 PERSONS- 220€ | 4 to 8 PERSONS- 65€ per person

Children up to 12 - 45€
Additional information:
The tour starts at 9h00 or 14h00

Minimum of 2 adults to make the tour



The duration of the tour with the guided visits is 4 hours
Included
Passenger and luggage transportation in SUV or Van, with AC
Half day private tour with guide service in Portuguese, English or Spanish
Bottle of water / 33 cl / per person
Travel insurance
Pickup and Drop Off in Fátima,

Alcobaça, Nazaré

or Batalha
If the start and end of the tour is from Tomar, Óbidos or Leiria, € 100 (per group) will be added and the duration of the tour will be 6 hours.

Not Included
Accommodation and meals
Tickets to National Monuments or any other
Personal expenses
Everything that is not described in the Included section